The traditional office tower security and concierge model is no longer sufficient because it's not about the customer service, it's about the 'customer experience'. While Equiem Onsite has been delighting customers with spectacular surprise holidays and competition giveaways, it's the little things our Community Managers and Concierge team are consistently doing that ensure the expectations of each and every tenant are not only achieved, but surpassed.

Equiem's product mix forms a unique, omnichannel approach, because we recognise the importance of technology in enhancing customer experiences. The best companies leverage the power of technology to improve service delivery, backed by human support. People do business with people and build relationships with people.

This bite-sized example of outstanding customer service reflects Equiem's commitment to delighting tenants on a daily basis. Our Onsite team achieves legendary service by putting every customer first and ensures they leave each interaction with 100% satisfaction.
Introducing Michael Elliott from Australia Square, Sydney.
While together in the lift, Concierge Michael Elliott struck up conversation with a visitor from the UK who mentioned he was flying to the Great Barrier Reef the next day. Michael knew the guest was busy with work at Coriolis whilst in Australia and would see the man the following morning before he departed. So overnight, Michael researched some activities and general information on the GBR, printed it off and surprised the visitor in the lobby the next day by handing him the unexpected holiday tips! The guest was completely blown away by the helpful and time-saving information, and incredibly happy with the considerate customer service. Michael's thoughtfulness ensured the guest's trip was especially memorable and his GBR stay more enjoyable! In an email to Building Management, the visitor expressed his surprise and gratitude at Michael's superior service:
"Getting in some Dutch Courage before setting off from Port Douglas for the Great Barrier Reef ! We are very grateful to Michael for his excellent tourist advice...a superb ambassador for Australia!" - Mike Cox
Michael could have simply engaged in friendly conversation before parting ways with the visitor, but the moment of delight arises when the customer is the recipient of something extraordinary.

We asked Michael some questions about his thoughts on customer service:
What is your customer service philosophy? In other words what does 'excellent customer service' mean to you and what drives you to help others?
My philosophy for providing the highest level of customer service could be summarised in one word: Anticipate.
Developing a clear vision for the wants and needs of your customers and then begin to anticipate those needs even before they know they need them.
This is where you can truly begin to exceed expectations.
Tell us a bit about your background and experience - prior to joining Equiem.
Over the last 10 years I have been fortunate to travel to over 30 countries whilst working for leading resorts including Delta Sunpeaks in the Rocky Mountains, Sheraton Fota Island in the south of Ireland and most recently qualia on Hamilton Island. All of these established resorts have showcased the highest level of standards and the paramount importance of the customer.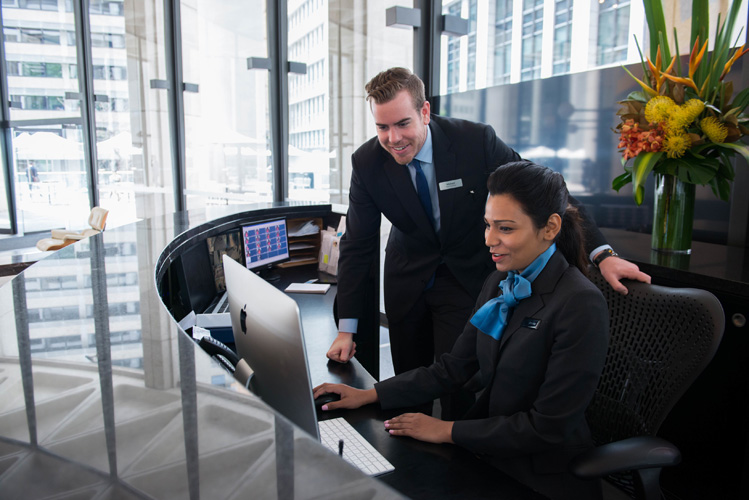 Tell us about the dynamic team at Australia Square - how do you and Neelam / Tanya work together to delight tenants every day - especially without an Equiem Portal?
Australia Square boasts a magnificent tenant culture who welcomes our team with open arms. The fact that this office building has been open since 1967 and we still have tenants operating from the 70's is a true testament to the facilities and prestige of this site. Without the portal as a communication tool we focus our efforts on the traditional aspect of our engagement strategy. Firstly researching the businesses themselves to tailor our services and then building a rapport with the tenants, challenging ourselves to memorize as many names as possible.
What other concierge services and amenities do you offer tenants?
Something we have established as a minimum standard is approaching anyone lounging in the foyer and offer a bottle of water, this may seem like a small gesture though is very well received by the guests of Australia Square.
Will you be planning a trip to the Great Barrier Reef yourself soon?
As Hamilton Island is where I met my beautiful wife the Whitsundays will always hold a special place in my heart. And Whitehaven beach my favourite spot in Australia I have no doubt we will be visiting again very soon.
Photos of Michael Cox's trip to Great Barrier Reef