Equiem clients gain access to Equiem Engage - our resident team of marketing, event management and copywriting experts. Equiem Engage works with you to generate and execute an annual tenant engagement strategy designed to activate your building's local community.
Expert tenant engagement strategy

We know from experience that creating a genuine, bustling community certainly doesn't happen overnight. Equiem Engage will assist you in building a strategy based on your business goals, your building's features and initiatives, occupants' characteristics, the local retail landscape and other key factors. We then help you plan a 12-month schedule of content, campaigns, activations and events designed to truly engage your building occupants.
Resources and skills you need

A solid strategy is just the beginning - it takes time and resources to execute it day by day, month by month, year by year. Our expert team at Equiem Engage is here to help with with writing content, crafting newsletters, organising events, coordinating activations, promoting your retail tenants and more. Equiem Engage also links up with your Equiem Onsite team, ensuring your strategy is executed online and offline. Having a presence on the ground also enables us to generate truly hyperlocal content sourced from within the building and surrounding precinct, making our tenant initiatives exclusive and relevant.
An engagement calendar tailored to your building
Equiem Engage works with you to build a tenant engagement plan tailored to your business objectives and the needs of your occupants. Here are some examples of initiatives we help our clients with:
Retail Engagement
Equiem Engage procures local retailers and service providers to the Portal and then supports them by organising pop-ups, promotions, showcases, workshops and more.
Tenant Induction
Equiem Engage formulates a unique tenant induction programme to create a powerful first impression. This programme typically includes an introduction to the local precinct, delicious morning tea, welcome drinks and a welcome pack with access cards.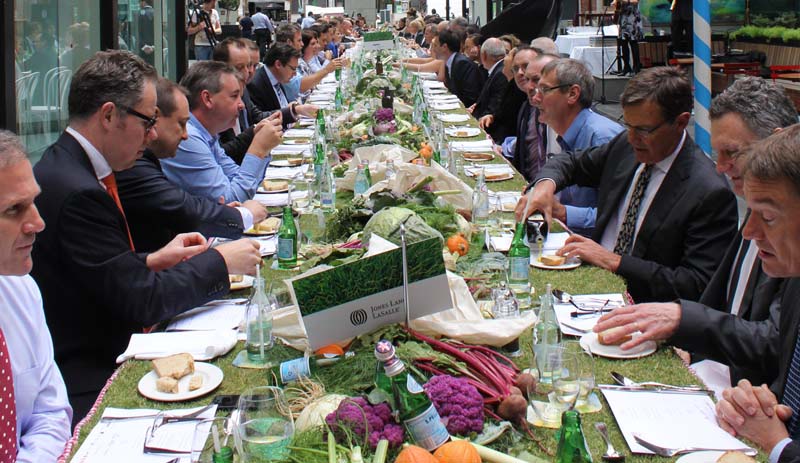 Food & Wine
Equiem Engage works with your local retailers to organise activities such as mouth-watering food and wine tastings, restaurant showcases, progressive dinners, special partnerships with food & wine festivals as well as masterclasses.
Learning, Culture & Collaboration
Encourage tenants to engage and express their ideas. Equiem Engage organises networking opportunities with industry experts, professional development classes and workshops, executive breakfasts and much more.
Corporate Social Responsibility
We support charities and businesses in the local community. Equiem Engage helps you organise non-profit initiatives such as running and cycling events, Jeans for Genes Day, Movember and FebFast.
Seasonal Events
We organise cultural and festive displays around key dates like Easter, Valentine's Day, Christmas, Spring Racing Carnival, major sporting events and more.
Large brand activations
We have partnered with key brands to create unique experiences for both visitors and tenants.
Health & Wellness
Working with local providers and our network of partners, we offer tenants health programmes such as yoga and meditation classes, gym sessions, massages, flu injections, health checks and more.
Case Studies
We delighted tenants at 80 Collins Street with a week-long health and wellness campaign, which included free health screenings, massages, smoothies, posture screenings and more.
Find out how the Equiem Platform garnered support for a Rialto community member in need.
Coordinated across several buildings, Ride2Work was a week-long campaign that promoted a healthy and sustainable lifestyle.
As part of Mother's Day celebrations, we delighted mums at World Sqaure with a meet and greet morning tea.
Over 150 guests enjoyed some delicious Aussie style BBQ, drinks and great live music on Cricket World Cup day at MLC Centre.
Unmatched in engagement
Our 2015 results:
Testimonials
"So many things I love about the Portal so where do I start? Fantastic offers, what's on Melbourne and our building, ordering my lunch when I'm busy, brilliant functions like yesterday's Oaks Day drinks. It's just really a great tool that brings the building together."
Patrick
Tenant, 120 Collins
"I love the brilliant competitions and regular freebies - I also love the fact that it has given the office a sense of excitement and fun - we are all chatting about competitions, encouraging each other to enter and talking about the free events like the boxing classes. And I am also getting to know more of the business inside World Square, which is great."
Christine
Tenant, World Square
"Not only do I love hearing about upcoming events, but I also love that you are able to interact with other people in the building including Sarah and hear their opinions and things about their lives, like their most memorable birthday (which was asked in the May Birthday Competition)."
Melissa
Tenant, MLC Centre
"While the Portal has a whole range of great services for the busy working person, what I like most about it is that it helps me connect with so many other people (otherwise strangers) in my building, get involved in a range of fun and beneficial activities, and makes me feel part of a great community."
Romina
Tenant, 80 Collins
"My favourite thing about the Portal is the care and interest from the concierge team who pull everything together. Providing the tenants with fun functions, life saving help with coffee, lunch and dry cleaning, hot tips on current events and more, the concierge team take care to get to know their clientele - and it shows! Thanks guys :)"
Clare
Tenant, 120 Collins
"One word: brilliant! I have worked in countless offices around the world over the last 15 years and this is hands-down the best service I've ever had offered. In particular, the convenience of delivery straight to my office is priceless! And, always delivered promptly with a smile. Thanks for the service, it couldn't be better."
Gary
Tenant, Rialto
Clients
We are excited to be working with leading property owners and managers